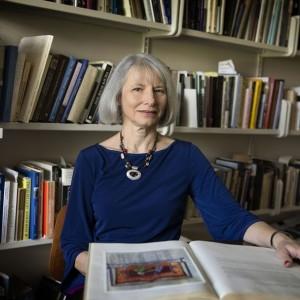 Zoom link: https://ucsb.zoom.us/j/84337887775
Each year at Passover, Jews gather for seder, the festive meal where family and friends come together to sing, pray, and enjoy traditional food while retelling the biblical story of the Exodus through the Haggadah. Professor Vanessa Ochs tells the story of this beloved book, from its emergence in antiquity as an oral practice to its vibrant proliferation today. She discusses the book's origins in biblical and rabbinic literature, its flourishing in illuminated manuscripts in the medieval period, and its mass production with the advent of the printing press. She looks at Haggadot created on the kibbutz, those reflecting the Holocaust, feminist and LGBTQ theme Haggadot, and even one featuring a popular television show, The Marvelous Mrs. Maisel. Ochs shows how this enduring work of liturgy that once served to transmit Jewish identity in Jewish settings continues to be reinterpreted and reimagined to share the message of freedom for all.
Professor Ochs is Professor of Religious Studies at the University of Virginia and is an ordained rabbi. Her books include Inventing Jewish Ritual, which won a National Jewish Book Award, Sarah Laughed: Modern Lessons from the Wisdom and Stories of Biblical Women, and Words on Fire: One Woman's Journey into the Sacred.
Copies of The Passover Haggadah: A Biography are available for purchase at Chaucer's Books